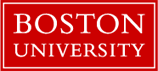 CS 640 Lecture Materials: AI Research at Boston University
AI at BU: University-wide AI Research Initiative Other AI faculty:
Sarah Adel Bargal (computer vision)
Peter (San) Chin (ML)
Prakash Ishwar (ML, computer vision)
Vijaya Kolachalama (ML applied to medicine)
Brian Kulis (ML)
Francesco Orabona (ML)
Bryan Plummer (computer vision),
Kate Saenko (computer vision, ML, on sabbatical this year)
Venkatesh Saligrama (ML)
Dean Stan Sclaroff (computer vision),
Gianluca Stringhini (Applied ML, networks)
Roberto Tron (robotics, computer vision)
Emily Whiting (graphics, fabrication)
Derry Wijaya (NLP & AIEM)
My AI Research Groups:
1) AI & Emerging Media at BU
We just received two prestigious awards:
2) Image and Video Computing Group in CS
3) Robotics: Neuroscience-Inspired Perception, Navigation, and Spatial Awareness for Autonomous Robots
We just received a large grant involving BU and MIT.
My Other Research Groups:
Camera Mouse
Aphasia and Brain Image Analysis (Fall 2020: Mon 1 pm EST)
Improving Student Learning: Video analysis of facial expressions (Amherst and Worcester)
Arabic Documents & Blind Individuals (Egypt)
ExerciseCheck (SAR, Hariri)
Medical Image Analysis and and Lung Cancer Detection
Pneumonia detection in lung ultrasound video with deep learning (active NIH grant)
Ear Biometrics Research Group (MED)
My Previous Research
Video analysis of group behavior of animals and ecology.
Proficio: Robotic arm for physical therapy.
---
---