Science and Technology Day 2003
Tuesday, March 25
Metcalf Hall, George Sherman Union
With a record number of outstanding presentations, Science and Technology Day 2003 demonstrated the excellence of graduate student research across all the sciences, mathematics, and engineering disciplines.
To view the abstracts, click here.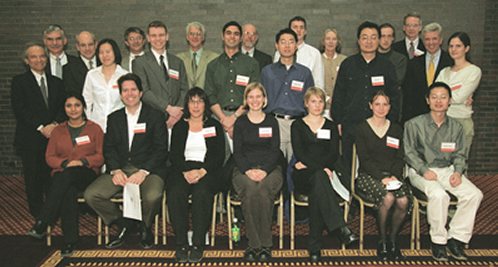 Chancellor's Award: Stephen Crampton, Department of Computer Sciences, Advisor: Margrit Betke. Counting Fingers in Real Time: A Webcam-based Human-Computer Interface with Game Applications.
Provost's Award: Attila Priplata, Applied BioDynamics Lab, Biomedical Engineering, Advisor: James Collins. Enhancing Elderly Balance Control with Vibrating Insoles
Community Technology Fund Award: Sarah Tao, Biomedical Engineering, Advisor: Tejal Desai. Microfabricated Polymeric Devices for Applications in Controlled Drug Delivery.
Berman Future of Light Award: Magued Nasr, Electrical and Computer Engineering, Advisor: Bahaa Saleh. Quantum Optical Coherence Tomography with Dispersion Cancellation.
Dean's Award: CAS: Aaron Ferris, Department of Earth Science, Advisor: Geoff Abers. High Resolution Image of the Subducted Pacific Plate Beneath Central Alaska, 50-150 km depth
Dean's Award: ENG: Tyler Gore, Fangyi Chen, Marianne Nourzad, Christian Karl, Zibing Yang, and Shan Lu, Electrical and Computer Engineering, Advisor: Allyn Hubbard. Cochlea on a Chip
Dean's Award: MED: Sushimita Lahiri, Department of Physiology and Biophysics, Advisor: Karen N. Allen. Structure of the Pentacovalent Phosphorus Intermediate of an Enzyme Catalyzed Phosphate Transfer Reaction at Atomic Resolution
Dean's Award: SDM: Edit Szepessy, Molecular and Cell Biology, Advisor: Miklos Sahin-Toth. Characterization of a Novel Trypsinogen Mutant that Protects against Pancreatitis
Dean's Award: SAR: Gayle DeDe, Department of Health Sciences, Advisor: Gloria Waters. The Relationship Between Verbal Working Memory and Language Processing
Dean's Award: SPH: Michele Jara, Epidemiology, Advisor: Marianne Prout. Impact of HIV-Related Immunosupression on Invasive Cervical Cancer Risk in Women with Low-Grade Squamous Intraepithelial Lesions.
Please note: you will need a BU kerberos password to view the abstracts. For password questions on the Medical Campus, please contact Ron Tate (638-4576, rtate@bu.edu), Hari Reddy (638-4279, hvr@bu.edu), or Jennifer Borucki (jborucki@bu.edu); on the Charles River Campus contact the IT front desk, 353-2780.
Please address any other questions to research@bu.edu