A Real-Time Multi-threaded Arduino API
For physical computing, the Internet-of-Things, real-time control, and beyond.
---
Overview
Qduino (or "Quest-Arduino") is a real-time multi-threaded Arduino-compatible API for embedded devices running Quest. So far, the Qduino library has been built for Quest running on the Intel Galileo. Plans are underway to port both Quest and Qduino to other Arduino-compatible devices such as the Intel Edison and Minnowboard Max.
The Arduino API is widely used in physical computing domains because of its ease of use and rapid prototyping capabilities. Traditional Arduino devices have been based on MegaAVR microcontrollers from Atmel, which lack memory management (MMU) or protection (MPU) units. More sophisticated devices such as the Intel Galileo support feature-rich operating systems such as Linux, but most of these are not designed for use in real-time systems.
Our Quest operating system sits between the simple real-time OSes that lack MMU/MPU support, and the more complex general purpose OSes that are not real-time. Quest is a natural fit for an emerging class of Arduino-compatible embedded devices, with added security to isolate trusted system services from those of less trusted applications. Moreover, devices such as the Intel Edison have support for multiple cores and hardware virtualization, enabling us to run a Quest-V separation kernel directly on the device. This provides an opportunity to build embedded systems with mixed criticality levels, such that non-timing-critical services can run on one core in a sandbox, and be separated from more time-critical control functionality on other cores.
Qduino is built on Quest and provides an extended Arduino API, including support for multiple control loops (each assigned to a separate time-budgeted thread of execution).
Qduino is designed for "smart devices" in the Internet-of-Things (IoT). Future home automation networks, vehicle management systems, robotics, and beyond will require the management and control of networks of sensors and actuators. Enter Qduino -- the platform for prototyping and developing third-party sketches for a future AppStore for IoT. As with smartphones, users will be able to share and download third-party apps for smart devices, to configure custom control networks and so forth. The future of intelligent networked systems is coming...
Poster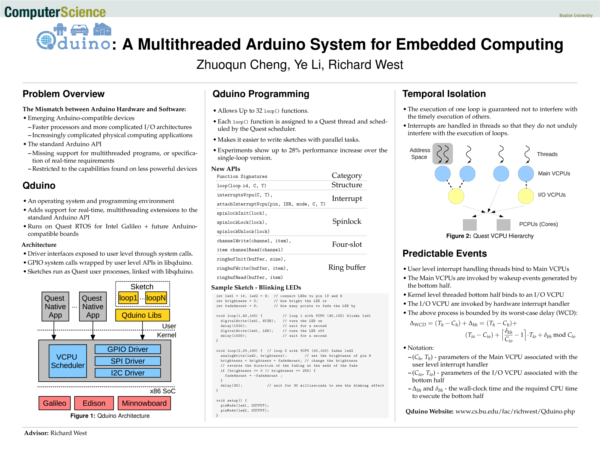 Papers
| | |
| --- | --- |
| Zhuoqun Cheng, Ye Li and Richard West, "Qduino: A Multithreaded Arduino System for Embedded Computing", in Proceedings of the 36th IEEE Real-Time Systems Symposium (RTSS), San Antonio, Texas, December 1-4, 2015 | [pdf] |
Acknowledgement
This work is funded in part by various grants, including: NSF #0615153 and #1117025.
Quest, still searching...


---